Solo per te
Un piccolo e prezioso servizio fotografico, quello dedicato al giorno di San Valentino 2022. Prezioso come tutti gli inizi, come il tornare a progettare e scattare progetti personali dopo mesi di limitazioni.
Abbiamo immaginato un pranzo tra due innamorati, all'ombra dell'antico chiostro dell'Abbazia di Montecorona. Una piccola tavola eclettica, dove elementi romantici, retrò e raw si fondono in maniera inaspettata.
Gioielli magici e originali, una suite grafica raffinata e curata in ogni dettaglio, piccoli dolci come mini opere d'arte e composizioni floreali come nuvole tenui per celebrare l'amore e godere la bellezza.
Un luogo senza tempo dove perdersi in un abbraccio.
Trovate qui la gallery completa.
Il Team:
Fotografie e concept: Giulia Corinti
Stationary: Lucia Alunni Tullini
Flowers: Fiori e piante Barbara
Location: Abbazia di Montecorona by Samanta Girelli
Jewelry: Valentina Monsignori VM jewelrydesign
Cake: Torteccetera by Elisa Conigli
Models: Maddalena Kartseva e Massimo Galmacci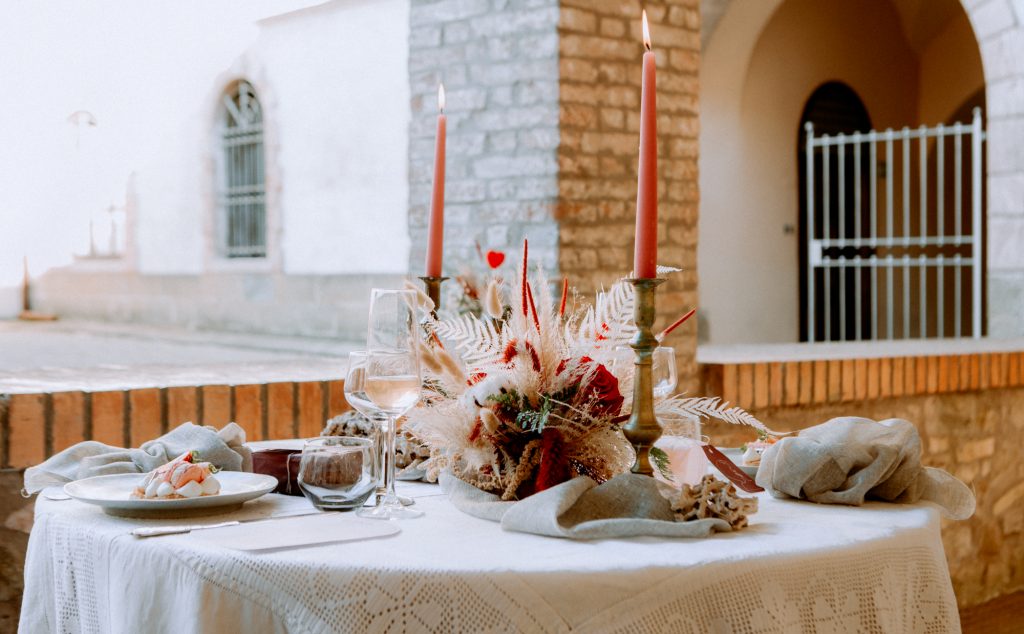 Valentine's Day 2022
Just for you
A small, precious photo shoot, the one dedicated to Valentine's Day 2022. As precious as all the beginnings, like going back to planning and shooting personal projects after periods of difficulty.
We imagined a lunch between two lovers, in the shadow of the ancient cloister of the Abbey of Montecorona. A small eclectic table, where romantic, retro and raw elements come together in an unexpected way.
Magical and original jewels, a refined graphic suite with attention to every detail, small sweets like mini works of art and floral compositions like soft clouds to celebrate love and enjoy beauty.
A timeless place to get lost in an embrace.
Find the complete gallery here.
The team:
Photographs and concept : Giulia Corinti
Stationary : Lucia Alunni Tullini
Flowers : Flowers and plants Barbara
Location : Montecorona Abbey by Samanta Girelli
Jewelry : Valentina Monsignori VM jewelrydesign
Cake : Torteccetera by Elisa Conigli
Models : Maddalena Kartseva and Massimo Galmacci