Le luci e le lucine del set (quest'anno davvero tante!) si sono spente domenica scorsa ma l'aria dello studietto è ancora carica dell' energia positiva e dei sorrisi delle famiglie passate a trovarmi in questi giorni di dicembre.
I mini shooting di Natale sono diventati, nel giro di pochi anni, una tradizione personale e lavorativa, un appuntamento che aspetto e progetto durante i mesi autunnali e che è cresciuto e migliorato nel tempo.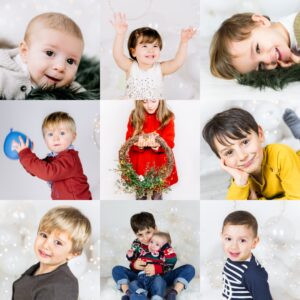 Ricordo ancora con affetto come iniziò: con un mini set improvvisato nell'ufficio di una cara cliente che desiderava qualche foto natalizia per le sue bimbe. Da lì è nata la ricerca, la passione e lo sviluppo dei Magic Christmas, che sono per me, molto più di un lavoro. Sono la volontà di creare un ricordo magico del Natale sia per i bimbi che per le loro famiglie, sono un momento di condivisione, auguri, occasione di incontro con i clienti più affezionati e conoscenza di nuove persone. E' vedere anno dopo anno i bambini crescere e cambiare, è fantasia e serenità. Sono candele accese, canzoncine e la caramella prima di partire.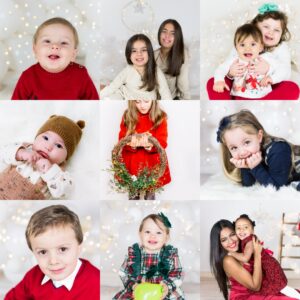 Anche nell'anno della pandemia ho cercato, ancora di più, di dar forma a tutto questo, pur nel rispetto delle mille regole che il periodo impone. Spero di esserci riuscita. Io mi sono divertita tanto e spero anche chi è passato da me!
Ho già mille idee per l'anno prossimo per rendere Magic Xmas sempre diverso. La nuvoletta di quest'anno, interamente creata da me e miracolosamente scampata all'assalto di bimbi e gatto lascerà spazio a nuovi colori, nuovi props e nuove soluzioni!
Grazie a tutti i bimbi, mini modelli eccezionali, simpatici e sempre elegantissimi! Grazie alle loro famiglie ! Buon Natale e un augurio per un 2021 migliore per tutti noi!
MagicXmas Mini Shooting
The lights and the little lights of the set (this year very many!) went out last Sunday but the air of the studio is still full of the positive energy and the smiles of the families who have come to visit me in these days of December.
Christmas mini shootings have become, in a few years, a personal and working tradition, an appointment that I expect and plan during the autumn months and that has grown and improved over time.
I still fondly remember how it began: with an improvised mini set in the office of a dear customer who wanted some Christmas photos for her girls. From there was born the research, the passion and the development of Magic Christmas, which for me are much more than a job. They are the desire to create a magical memory of Christmas for both children and their families, they are a moment of sharing, good wishes, an opportunity to meet with the most loyal customers and get to know new people. It means seeing children grow and change year after year, it is fantasy and serenity. They are lighted candles, songs and candy before leaving.
Even in the year of the pandemic I tried, even more, to give shape to all this, while respecting the thousand rules that the period imposes. I hope I have succeeded. I had a lot of fun and I hope those who have passed by me too!
I already have a thousand ideas for next year to make Magic Xmas always different. This year's cloud, entirely created by me and miraculously escaped the onslaught of children and cats, will leave room for new colors, new props and new solutions!
Thanks to all the children, exceptional mini models, nice and always very elegant! Thanks to their families! Merry Christmas and best wishes for a better 2021 for all of us!